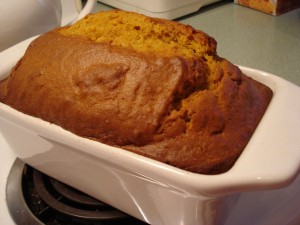 I had no idea what to blog about today – so I went on a search for "Easy Christmas Recipes" and found this recipe on All Recipes, that looks fabulous! It is a loaf/bread and it really looked excellent. So, I am posting it now, and photographing my own version once it is out of the oven…stay tuned for that!
The Scottish Bakery in Preston, Ontario "The Rising Dough" makes a spice cake, and I am hoping that this is similar. If you are in the Kitchener/Cambridge/Guelph area, and have *not* tried this bakery – you MUST! It is well worth the trip. They sell everything from Cornish Pasties, Empire Cookies, Shortbread, Scones and wonderful breads and buns, not to mention the most excellent coffee. Really, I *could* and *have* gone on and on about it!
So, again the reason for my post today – the recipe! Enjoy!
Pumpkin Gingerbread Recipe
3 cups sugar
1 cup vegetable oil
4 eggs
2/3 cup water
1 (15 ounce) can pumpkin puree
2 teaspoons ground ginger
1 teaspoon ground allspice
1 teaspoon ground cinnamon
1 teaspoon ground cloves
3 1/2 cups all-purpose flour
2 teaspoons baking soda
1 1/2 teaspoons salt
1/2 teaspoon baking powder
Preheat oven to 350 degrees F (175 degrees C). Lightly grease two 9×5 inch loaf pans.
In a large mixing, combine sugar, oil and eggs; beat until smooth. Add water and beat until well blended. Stir in pumpkin, ginger, allspice and cinnamon.
In medium bowl, combine flour, soda, salt, and baking powder. Add dry ingredients to pumpkin mixture and blend just until all ingredients are mixed. Divide batter between prepared pans.
Bake in preheated oven until toothpick comes out clean, about 1 hour.