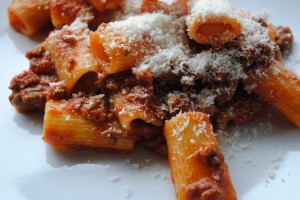 Lately I have loved watching cooking videos by Laura Vitale of Laurainthekitchen.com    Her easy and fun approach to cooking great food makes anyone aspire to cooking delicious Italian dishes!
I've been playing around with my own versions of Italian recipes such as lasagna and various other pasta dishes over the years, until last week when I made the perfect bolognese sauce! It was absolute heaven. The recipe was inspired by Laura's own recipe, with a few slight variations – here is how I made mine!
2 TBSP olive oil
1 pound ground beef, sauteed
1 onion, chopped fine
4 cloves of garlic
2 TBSP fresh Italian parsley, chopped
2 TBSP fresh basil, chopped
1 cup red wine
salt and pepper to taste
1 28 ounce can crushed tomatoes
8 ounces rigatoni pasta, cooked
In a large skillet, pour the olive oil and get it nice and hot. Saute the meat with the onion and garlic until lightly browned.  Add in herbs, wine, salt and pepper and tomatoes. Allow to simmer on low to medium heat for at least two hours. Adjust seasonings (I found a lot of salt made it perfect) Serve with pasta noodles and fresh parmeggiano reggiano.