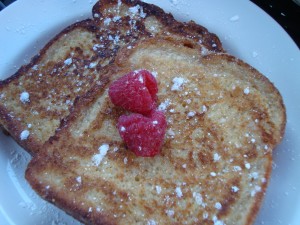 Vive la France! This impressing looking breakfast is super easy to whip up in minutes! Dust with icing sugar, and treat yourself to a taste of heaven this morning!
4 eggs
1 cup milk
2 tsp vanilla extract (I use artificial)
1/2 tsp nutmeg, grated
1 TBSP sugar
6-8 slices bread
Whisk all ingredients together (except bread) and then dip bread slices into mixture to coat. Fry in a small amount of cooking oil to brown slightly on each side (2-3 minutes per side on medium heat) Sprinkle with a dusting of icing sugar, and top with berries and syrup.