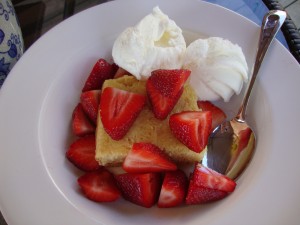 Well, it's strawberry season again, or at least it's getting close. You always know when the strawberries are on sale at your local grocery store, and their colour is absolutely fabulous that it's the right time for the first taste of the season and boy, was it ever!
Our daughter is a huge strawberry fan, so I bought 3 containers of them home this morning, and together, we whipped up a simple strawberry shortcake for tonight's dessert – and I mean simple! This cake has 2, yes only *2* ingredients (cake mix + 1 can diet pop.) This is a slightly heavier and moister cake when made this way, and is the perfect accompaniment with the strawberries, and ice cream. Voila! It's a delicious and simple family-pleasing dessert!
Easiest Ever Strawberry Shortcake
1 box white cake mix
1 can diet pop (diet 7-up, Sprite or Gingerale) but *must* be diet
2 cups fresh strawberries, sliced
Scoop of vanilla ice cream for topping or freshly whipped cream if you prefer
Prepare the cake mix using *only* the can of pop. No other ingredients, just the dry cake mix and pour in the diet pop. Mix well, and pour into a greased 9×13 cake pan. Bake at 350 degrees F for 25 minutes or so until toothpick comes out clean. Top with sliced strawberries and ice cream.
A simple summer dessert at it's best!