My goodness – it's been AGES since I last posted. It's one of those "life got in the way of life" type-things – I guess in honesty, we all do it. Family, work, busy schedules…etc. Sometimes it adds up. But, I am here. Posting today was a priority, and if you are reading this, then I am patting myslef on the back for carrying through with it!
Since the spring, my family has been eating meatless. When we got our pet chickens, our family could no longer eat poultry because frankly, who wants to eat their pets? Logically, we quickly followed suit on the no-meat meals all together. We do still eat fish, and seafood, but I've been truly amazed at how few meals with animal proteins we've needed or wanted for that matter.
I love to experiment in the kitchen, so today I made a beautiful lasagna, based with mushrooms and textured vegetable protein (tvp – available at all bulk stores) Much like tofu in it's composition, tvp takes on the flavour of what it is cooked with. It's a versitile meat-substitute that will please even the most extreme carnivore, as it's texture closely resembles that of ground beef. The best part about tvp, is the price! It's super inexpensive. Going veggie saves you money, big time and tvp is a product that I am so thankful for.
As with most lasagna recipes, this one is quite versatile and you can adapt it to suit the veggies you have on-hand. My version is deliciously cheesy, using three different types. Again, more could be added to suit your cheese-loving family. This recipe makes lotsa lasagna – 2 pans of it to be exact. You can assemble both at the same time, but freeze one before baking, so you'll have a freezer meal ready to go for another busy mid-week night 😉
Vegetarian Mushroom & TVP Lasagna
3 TBSP olive oil
1 onion, diced
2 cloves garlic, minced
1 cup TVP – re-hydrated (1 cup water to 1 cup TVP ratio)
3 cups button mushrooms, finely chopped
1/2 red pepper, chopped
1/2 green pepper, chopped
1 small zucchini, finely diced
1 cup carrots, grated
3 cups tomato sauce
1 cup parmesan cheese
1 500 ml container cottage cheese
2 eggs
1/2 cup fresh parsley, chopped
2 cups mozzarella, shredded
3 cups raw baby spinach leaves
1 package lasagna noodles, cooked according to package directions (or use oven ready)
In a large frying pan, heat oil, and add onion and garlic and saute' until soft. Add in tvp, and remaining vegetables and stir well. Cook for about 20 minutes on medium heat, then add tomato sauce, stir and set aside.
In a bowl, combine cottage cheese, parmesan, eggs and parsley. Stir to combine well, and set aside.
Take 2 oblong glass cake pans. Set side by side for assembly of lasagnas. All ingredients will need to be divided between the two pans. First, layer cooked noodles, next goes the tomato sauce layer, then baby spinach leaves, then cottage cheese layer, then noodles again…etc. Repeat between both pans until all ingredients are used up.
Bake in 375 oven for 1 1/4 hours. Allow to sit outside of oven for 10 minutes prior to serving, so lasagna sets well.
Serve with salad and garlic toast.
Lasagna – pre-baking (here's when you pop one in the freezer)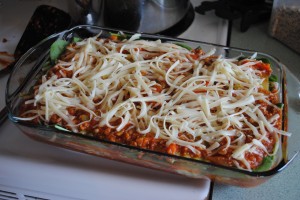 …And after, ready to eat! (forgive the crummy photo – I was REALLY hungry!) 😉