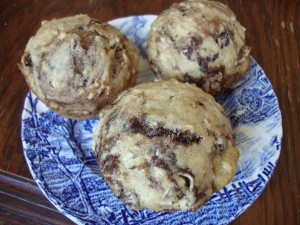 In my usual style, I've been experimenting with recipes today. After doing a muffin-baking demonstration this morning for a women's group, I had muffins on the brain and wanted to try an experiment, so I came home and made these little beauties.
Look closely and you'll notice that he recipe is the same as my Awesome Banana Muffin Recipe, but no bananas required. Instead of bananas, I used cooked oatmeal, added in chocolate chips, lots of vanilla, cinnamon and coconut. Add walnuts too for extra crunch too!
2 cups cooked oatmeal
1 cup white sugar
1 slightly beaten egg
1/3 cup melted margarine or butter
1 teaspoon baking soda
1 teaspoon baking powder
1/2 teaspoon salt
1 1/2 cups flour
Then add – 1/2 cup chocolate chips, walnut pieces, 1/2 cup shredded coconut, 1/2 tsp cinnamon and 1 tsp vanilla
Mix the oatmeal, sugar, egg and margarine together. Set aside. In a separate bowl, mix together baking soda, baking powder, salt and flour. Mix wet and dry ingredients all together and add extras and spices. Pour into greased muffin tins, and bake in 350 degrees F oven for approximately 20 minutes. Enjoy!