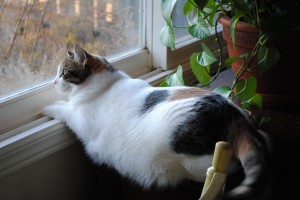 I love to help the local animal shelter where I can. We have given donations to them every year for as long as we've lived in Guelph, and one of our resident companion cats (Annie is pictured above) came from there also. The people that work with the animals in shelters across North America have huge hearts, and they give so much to the animals in their care. Without them, there would be so much more suffering.
Previously, I have given the GHS jewelry and books to sell, but this year I wanted to ask for your help. From now until December 25th, I will be donating $1 from the sale of each book to the Guelph Humane Society.
Let's help the thousands of animals that come through their doors each year. My book makes a wonderful and useful gift for practically anyone! The recipes are simple, straightforward and best of all, yummy!
To order a book (or two) go to: www.catcancook.com/book I ship my book all over the world!
I'll let you know how it's going, and update you from time to time on how we're doing progress-wise! You'll be giving back to a local charity that really needs your help!
Thanks everyone! 🙂